DESIGNER OF THE MONTH FOR JANUARY 2018 – STACY NASH PRIMITIVES. This means that charts from STACY NASH PRIMITIVES will be discounted 20% during the month of JANUARY, and we encourage our customers to bring in completed pieces for display.  See 2 finished pieces in the store- "Mary Bovee" and "Spotted Pig".
CLASSES & WORKSHOPS – MIXED MEDIA, NEW PASTEL INTERPRETATIONS, BETH SEAL OF SUMMER HOUSE STITCHE WORKES WORKSHOP, EXPERIMENTAL AND EXPRESSIVE DRAWING, INTRODUCTION TO PAINTING WITH SOFT PASTEL.
MIXED MEDIA CLASS – Saturday, February 10 from 10 to 4 pm   Fee: $105 includes all materials. Instructor: Dawn Wians. Dawn offers her students guided exercises to gain inspiration, build a foundation of techniques, and bolsters courage to discover new ideas in this very creative process.  As you apply each layer in the mixed media project you will build your understanding of composition, various mediums, how to mix them and ways to express meaning through your art.  Explore a classroom full of supplies and tools to try before you buy!  Appropriate for all skill levels.  Bring a sack lunch and hair dryer plus favorite quotes, lyrics, or short verses for inspiration. This class will fill up quickly, since we are limiting it to six students.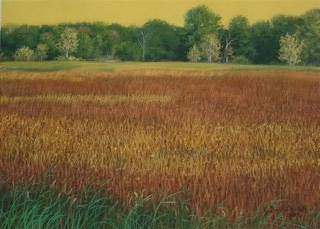 MORE PASTEL INTERPRETATIONS – Friday, March 23 from 10am to 4pm. Instructor: Kay Brathol-Hostvet, professional artist and teacher. See example of Kay's work at www.kaybratholhostvet@gmail.com. Kay's contact for questions: kaybratholhostvet@gmail.com. Fee:$80 + materials. Soft pastel is a very adaptable medium and is perfect for learning different painting techniques. You'll do three different interpretations from the same photo. Each work in your series will be quite unlike the others! You will be using different papers and styles of application, learning which styles and techniques work best for you. This repeatable workshop is for beginner to advanced levels. Beginners to the soft pastel medium should have reasonably good drawing skills. You are required to have at least 36 different colors of pastels for this class – but more is definitely better. I will be providing all of the pastel papers/supports as well as having easels, boards, and other materials on hand if you need them. The other required materials are available at local stores (Lynn's will give 10% discount on non-sale items. A supply list is available at Lynn's.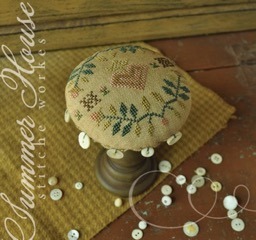 BETH SEAL* OF SUMMER HOUSE STITCHE WORKES – "HARRIET'S MAKE-DO PYNKEEP WORKSHOP" – Thursday, April 5 from 1 to 4:30pm. Fee:$125. You will want to sign up now because PRESTITCHING IS REQUIRED!!!!Because there is pre-work, your stitching should be completed before you come to class so you will be able to do the finishing in the class. Inspired by an exquisite early nineteenth century sampler, Harriet's Make-Do Pynkeep is a classic needlework piece filled with a myriad of today's crafting techniques. The pre-stitched pynkeep is stitched on 32ct "Straw" linen from Weeks Dye Works with Gentle Art floss in soft faded tones that mimic the original. During the class you will learn how to construct the pynkeep with wool from Weeks Dye Works and vintage buttons, and paint and antique the wooden base. Of course there are a few other surprises in store for you as well and you can't miss hearing Harriet's story. Class kit includes: 32ct Straw linen from Weeks Dye Works, Gentle Art Sampler threads, full size chart with finishing instructions and chart for bonus sampler, 4" wooden candlestick, mat board circle, Weeks Dye Works wool circle, vintage buttons, polyfill, bonus craft- counting pins (just a little extra for you to make up during class) ,paint, & antiquing wax and the resin pendant. If you would prefer 16ct Aida cloth or a 32ct even weave in a similar color, just let the shop know so we can get the fabric to you. (any other count will not fit the base properly.) If you should not have stitching complete, you will at least be able to get your candlestick painted and learn the process.
*Beth Ann Seal grew up in rural Nittany, Pa. She first learned to embroider as a child and a cousin taught her counted cross stitch while in high school. Her early employment at Woolrich, Inc, included several positions from sewer to industrial engineer technician. After a tenure as a Navy Officer's wife and her three children were all in school she returned to the classroom as well, earning a BS in graphic design from Pennsylvania College of Technology. Since then, she worked for a professional photographer and created thousands of invitations as the in-house designer for Bella Figura, a luxury stationer. Ten years ago, she started Summer House Sitiche Workes and now designs needlework full time. Beth enjoys spreading her love of the needle through teaching and meeting stitchers across the country. Beth resides in Mechanicsburg, Pa with Bryan, her husband of 25 years, Bailey, the playful pup and Lego, the feline old man.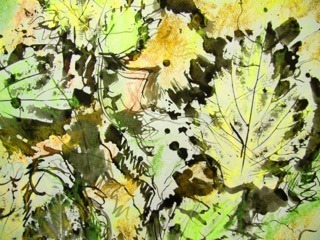 EXPERIMENTAL AND EXPRESSIE DRAWING – Friday, May 4 from 10 am to 4pm. Limit 7. Instructor Kay Brathol-Hostvet – professional artist and teacher. Fee: $80. See examples of Kay's work at www.kaybratholhostvet.com . "Every child is an artist. The problem is how to remain an artist once he grows up." – Pablo Piscasso
Drawing is one of the most elemental forms of communication throughout human culture, and the foundation for all of the visual arts. This fun, process-oriented workshop is for those who want to go beyond traditional drawing, expand skills and creativity, and regain the delight we had as children when drawing for pure pleasure. We will explore expressive mark-making, exaggeration, co-operative drawing and the use of non-traditional drawing tools. We will work both intuitively and cerebrally so come with an open mind! Our drawings will be about exploration and experimentation – the processes we employ – rather than focusing on finished products. Numerous handouts and some materials will be provided. Dress in your "grubbies" – you may get messy! Feel free to contact me directly f you have any questions or concerns. I look forward to "playing" with you!

INTRODUCTION TO PAINTING WITH SOFT PASTEL – Friday, June 29 from 10 am to 4pm. Instructor Kay Brathol-Hostvet-professional artist and teacher. Limit 7. Fee: $80. Many students "fall in love" with pastels after taking this workshop! Soft pastels are fun to use, colorful, versatile, and expressive You'll be introduced to this dry painting medium through two exercise on different papers. You will be using soft pastels, not oil pastels or Craypas. Be sure the product you buy or bring is the "chalk-like" type of pastel. Pastels can be expensive but they last a long time and don't dry out like other painting mediums. Buy the largest set of pastels you can afford.(see list below). It is a frustrating experience to be hampered in your art making by having a very limited palette. I require you to have at least 24 different colors of pastels for this introductory class – but more is better!!! I will be providing all of the paper you will be using as well as having some tripod easels and drawing boards on hand. The other required materials are available locally and online.   Lynn's of Madison will give you a 10% discount on non-sale items for this class. BRING A BAG LUNCH, THE BREAKS ARE SHORT!
Brands to look for in pastel products:
Soft pastels – hard to Medium density: Nupastels by Prismacolor (NOT Neopastels), Van Gogh, Holbein, Cretacolor, Pastels Girault, Richardson Semi-Hard (If you are on a tight budget and can oly buy one type – get a larger set of either Richardson Semi-Hard or Nupastels)
Soft pastels – Soft to Extra Soft density – Rembrandt, Great American Art Works, Art Sectrum, Daler-Rowney, Unison, Schmincke, Sennelier, Gallery, Terry Ludwig, diane townsend, Conte Soft Mount Vison.
Pastel pencils: Conte, Car-Othello (Schwan-Stablio), Van Gogh, Faber Castell, Derwent, Cretacolor
MONTHLY EVENTS
STITCHERS' CLUB– Wednesday, February 7,  from 1 to 2:30 pm and from 6 to 7:30 pm.  Stitchers' club meets the first Wednesday of each month. Please register in advance. Fee for each session is $5.
STITCH-IN –  There will be STITCH-IN  Saturday,  January 20 10 am to 5 pm and Wednesday, January 24 from 1 – 2:30 Come-and-go gathering for all on the third Saturday and the fourth Wednesday of every month. No fee or registration required.
PAINT-IN – All Thursdays in January from 10 am to 1 pm.   The Paint-in is an open work time for oil, acrylic or watercolor painting. This activity is held most every Thursday in Lynn's classroom. We have installed a high efficiency exhaust fan in our classroom to provide a healthier environment for those using oil paints and others concerned about the fumes. No fee or registration required.
PASTEL PAINT IN -All Tuesdays in January from 10-1
Pictures of some of the class projects and other work by our teachers are posted on our website Gallery page.  For more information about classes call the store at 608-274-1442.